Rymek Mechanical Keyboard With Limited Keycaps (All Black)
$174.00
$244.00
saving
$70.00
LIMITED EDITION
Limited Style Keycaps
Classic Retro Design: match your unique and chic taste
Both Bluetooth Wireless And USB Wired Connectivity Supported: suits for all kinds of using purpose
Windows / macOS / iOS / Android System Supported: able to connect with iPad Pro, MacBook Pro, iPhone, and other devices
Pair With Up To 3 Devices Simultaneously: allow to connect with 3 devices and switch among with short cuts, increase your productivity greatly
LED Dynamic Backlight: boost y

our typing accuracy at night and be more enjoyable when gaming
Integrated Tablet Stand: easy and convenient to hold your iPad and smartphone
Blue Switch: the audible click sound Is so good and brings you an excellent tactile bump feel
LIMITED EDITION
Limited Style Keycaps
Classic Retro Design: match your unique and chic taste
Both Bluetooth Wireless And USB Wired Connectivity Supported: suits for all kinds of using purpose
Windows / macOS / iOS / Android System Supported: able to connect with iPad Pro, MacBook Pro, iPhone, and other devices
Pair With Up To 3 Devices Simultaneously: allow to connect with 3 devices and switch among with short cuts, increase your productivity greatly
LED Dynamic Backlight: boost y

our typing accuracy at night and be more enjoyable when gaming
Integrated Tablet Stand: easy and convenient to hold your iPad and smartphone
Blue Switch: the audible click sound Is so good and brings you an excellent tactile bump feel
FREE DELIVERY WITHIN THE US
A perfect Christmas Gift
Art comes from life. Black is a timeless classic, the designer creates this Rymek Christmas special edition. Rymek offers practicality and functionality. It is the perfect amalgam of past, present, and future by blending classic design with ultra-modern features. It is the best Christmas gift ever!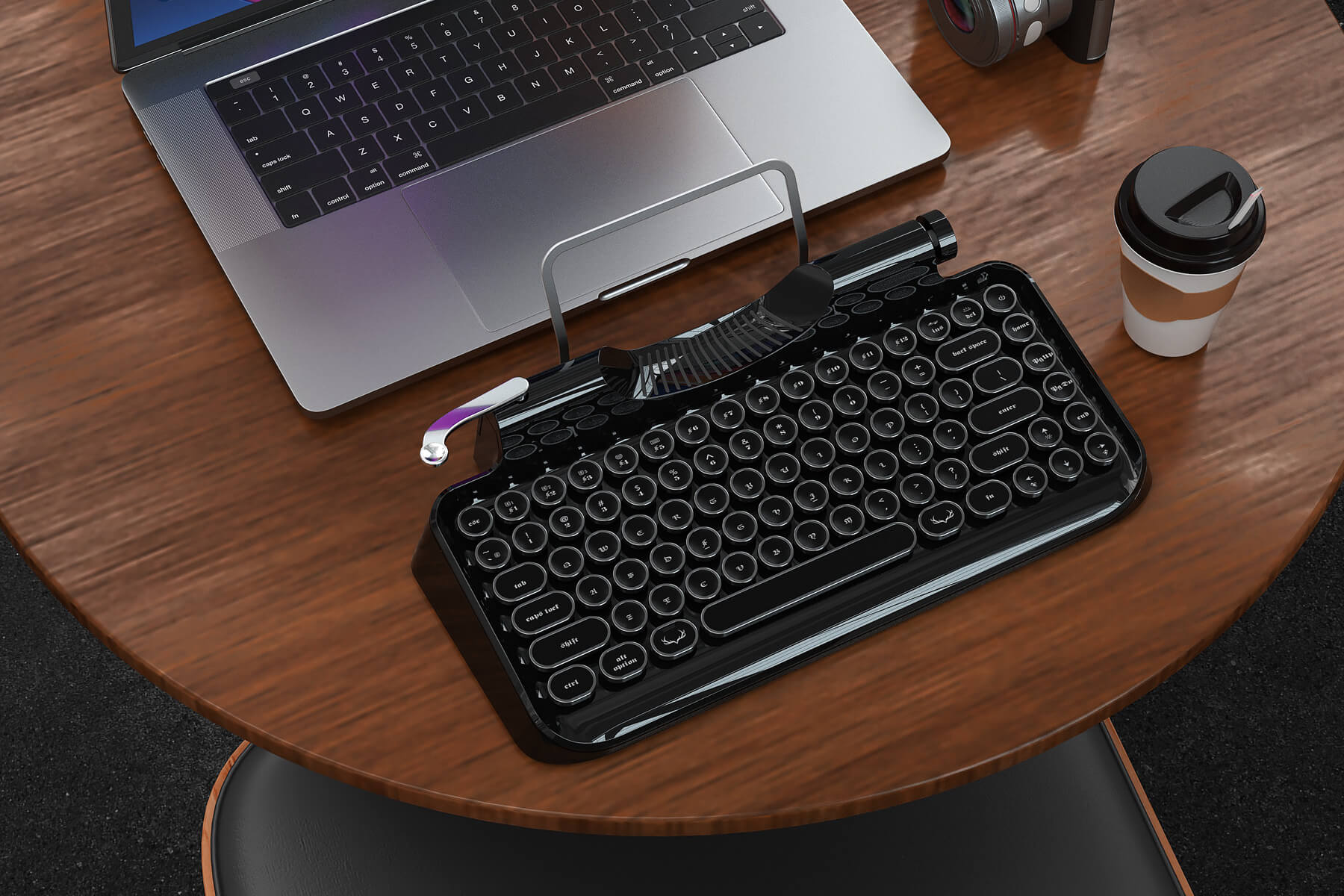 Unique Design
Rymek comes with ergonomically round-shape keycaps, which features Christmas style layout; the glossy surface is beautiful as well as durable. All keys are arranged for comfortable operation from a default position, which boosts not only typing speed but also accuracy. Rymek features a stainless steel stent to secure your phone or tablet while typing.
bluetooth connection, say goodbye to wires
Rymek adopts Bluetooth 3.0 and supports iOS, Android, macOS and Windows(With Bluetooth feature) with a highly stable connection. You can pair with 3 devices and easily switch with shortcuts.
built-in lithium battery
Rymek comes with a rechargeable 1200 mAh battery that will last 50 hours on a single charge, allowing users to enjoy the Bluetooth connectivity freely.
Type effortlessly
Unlike regular keyboards, mechanical keyboards give you specific tactile feedback on button presses, and the most accurate and reliable performance that typist and gamers will truly appreciate.
backlight effect
Rymek ( Dual Mode Mechanical Keyboard ) comes with dynamic backlit keys, something you rarely get to see in a wireless keyboard. Rymek offers 5 brightness levels(0%~100%), 7 light effects, 4 dynamic speed for choice. You can also turn off the backlit as needed.
Design
Rymek is eager to engage in the sociocultural evolution, embracing your nostalgia with retro tech.
Versatile scroll knob
The design inspiration of the scroll knob comes from vintage manual typewriter; it serves a volume controller plus as an on/off switch. You can also use the multimedia key to control the music.
Dual Mode Mechanical Keyboard:


Mode: Bluetooth/USB Dual Mode
Mechanical Switch: Blue/Brown Switch
Color: Classy Black, Caramel White
Number of Keys: 83 Keys
Size: 360mm x 190mm x 70mm
Weight: About1300g
Blacklit: Dynamic LED
Mail Body Material: ABS(Piano Lacquer)
Keycap Material: PC+ABS
Keyboard Battery: Lithium 1200mAh Battery
Battery Life: Around 1 Week
Battery Life (Full-Light On): 8 hours
Charging Port: Micro USB *2
Certification: CE, FC, RoHS
Rymek Backlit Effects Demo:
KnewKeys Wrist Rest helps to alleviate the aches and pains associated with hours of typing by encouraging a neutral wrist posture. The material is comfortable cotton fabric surface, good for both summer and winter. KnewKeys Wrist Rest does not sale alone, will ship together with the keyboard.
| | |
| --- | --- |
| Keyboard*1 | Metal Stent*1 |
| Built-in Handle*1 | Manual*1 |